In-Person Events
Nothing confirmed yet but check back often. Better yet, subscribe to stay in the loop!
---
Virtual Events
How to Speak for Those Who Cannot Speak for Themselves
Sunday, March 19, 2023 5-6pm EST
Why do we advocate for animals? It's certainly not an easy thing to do in a world that overlooks the victimization required to maintain a broken system. It can feel uncomfortable and awkward to share what we believe and to ask others to question what they believe. In this session, we'll explore why and how to speak up for those who cannot speak up for themselves.
---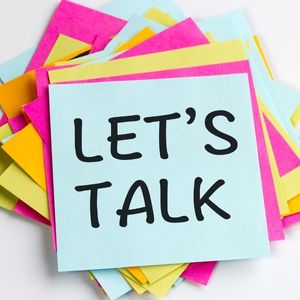 Enjoy this video presentation entitled
Compassionate Disagreement
I recently presented along with Suzanne McAllister for We Did It, a group committed to creating a happy, healthy, vegan world. Enjoy!
---
ZOOM by REQUEST
If you'd like to schedule a separate zoom meeting for your vegan group or for yourself, please contact me via email: anne"at"conversationswithafriendlyvegan.com
---
Past Events
Free tips on how to disagree with style
Sunday, February 19, 2023 4-5pm EST
1-hour zoom session to support you in addressing the sometimes frustrating or unsatisfying conversations that come up when you're vegan in a non-vegan world.
Pre-Thanksgiving Support Meeting
Sunday, November 20 from 4:30 to 6:00pm
Join Anne and Suzanne for an interactive meeting. Get feedback on your most troubling conversations as you approach the holiday season. Explore uplifting visions of a post-animal-use world.
---
American Vegan Center
Sunday, October 23, 2-3pm
17 N Second Street, Philadelphia, PA 19106
Meet Anne and Suzanne at the Center to learn and practice ways to talk about veganism in a way people can hear so we can all explore and move toward a post-animal-use world. Details on this special presentation are forthcoming here and on the American Vegan Center's website at: https://americanvegan.org/ Click on "Connect" and "AVS" Events.
---
Celebrate World Day for Farmed Animals with PAUW and CWAFV
Sunday, October 2nd from 5 to 6pm
Join Anne and Suzanne of The Post-Animal-Use World (PAUW) Project and Conversations with a Friendly Vegan (CWAFV) to celebrate World Day for Farmed Animals. LINK here for details.
---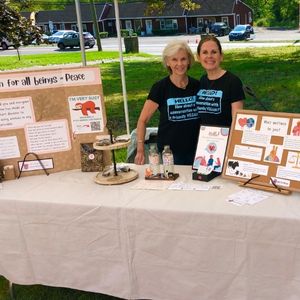 The Buckingham Friends Peace Fair
Saturday, September 17th, 10:30am – 4:00pm
5684 York Road, Lahaska, PA 18931
At the peace fair we talked with 60+ people and we're convinced many walked away feeling inspired to make a change (or at least think about it!). https://www.peacefair.org/
---